Craigleith Road, Edinburgh
Project Overview
This investment project will increase the capacity of the sewer network to help better protect properties and streets from sewer flooding at time of heavy rainfall.
At a Glance
Flood prevention
Delivered by amey Black & Veatch
Approx. 1 year duration
What we are doing
Work will involve the installation of new, larger diameter sewer pipes on Craigleith Road and Orchard Bank, along with the construction of a 12 metre diameter, 10 metre deep storm water storage tank within land on the south east corner of the former Royal Victoria Hospital site adjacent to the existing gate house. During the works there will be traffic management needed and local road closures on Craiglieth Road, Orchard Bank and Orchard Place (see map below). Work will be carried out in phases to help minimise disruption and access to driveways will be made to residents on the road closure.
Preparatory works and some tree felling to be carried out within the site of the old Royal Victoria Hospital
Traffic calming speed humps have been installed on Orchard Road; this is to discourage the use of the road as a 'rat run' instead of the proper diversion route
The main works and traffic management on Craigleith Road is due to start on 25th October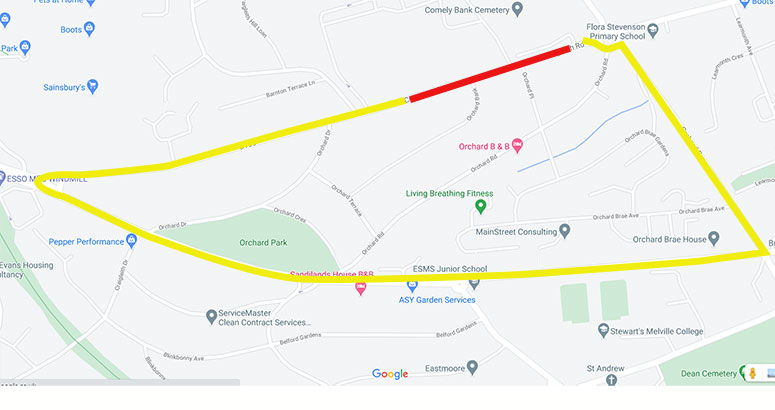 Craigleith Road Closure
Area of road closure shown in red with diversion route in yellow
Why we are doing it
A number of residents in the area have previously been affected by sewer flooding. The work being done here will increase the capacity of the local waste water network and will provide extra storage during heavy rainfall. This improvement project will help reduce the risk of flooding in the lower area of Craigleith Road.