Water of Leith - Belford Place
Work site with temporary bridge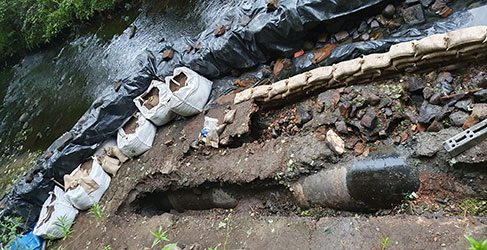 Dam construction area

Project Overview
Scottish Water are investigating a potential issue with part of our pipe infrastructure in the Water of Leith, adjacent to Belford Place, Edinburgh.
Due to access difficulties, our delivery partner George Leslie have installed a temporary compound at Belford Place and have constructed a temporary bridge over the Water of Leith to gain safe access to the river bed to allow CCTV survey of the pipe, to understand the issue. Repair works will include the construction of a new manhole chamber. This new manhole will stop the river washing out further pipe surround material, provide options to over- pump and allow us to install a liner to the sewer.
Latest update: 8th October
Early this week work continued on preparing the area around the sewer pipe for the construction of the new manhole and despite the weather stopping work on Wednesday, work continue on Thurday and today (Friday) concrete has been poured around the shutter to allow the installation of the manhole ring which was then sealed.
Next week we plan to carry out further CCTV surveys to confirm the scope of further works needed.
At a Glance
Investigation/Repair works
Delivered by George Leslie
Approximate Completion: early December 2021