Craigneuk Flooding Project
Project Overview
An investment project is currently under way in Craigneuk, North Lanarkshire, to help reduce the risk of sewer flooding by increasing the capacity of the local combined sewer network.

The improvement work is valued at over £11.5 million and is the latest measure to help reduce flood risk in this area. The work being done here will benefit a number of residents who have been affected by sewer flooding in previous years.

Scottish Water's alliance partner, amey-binnies, is delivering the project which is expected to take around eighteen months for completion.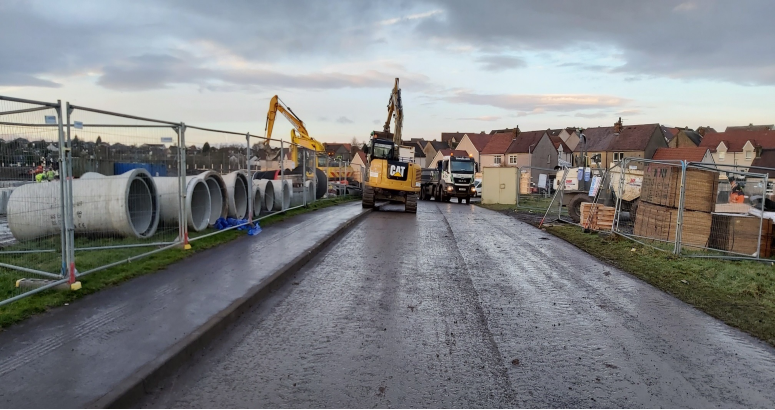 Flooding Project
The work being done here in Craigneuk will help reduce the risk of flooding at times of heavy rainfall.
Why We Are Doing This
A number of residents in the area have previously been affected by sewer flooding.
The work being done here will increase the capacity of the local waste water network and will provide extra storage during heavy rainfall.
This improvement project will help reduce the risk of flooding in the area.
What We Are Doing
Work began on Thursday 5th November 2020.

It involves the installation of an underground storm tank within Craigneuk Park (please see map below). At around 25 metres diameter by 19 metres deep, the tank will help provide extra storage capacity during heavy rainfall.

We will also be installing new and refurbishing manholes, increased capacity sewer pipes in Craigneuk Avenue & Hawthorn Drive; Willow Drive & Poplar Street; Craigneuk Park, Craigneuk Park & Airdrie Football Stadium.

Inevitably, there will be some local traffic disruption and parking restrictions while this work is being delivered but the long-term benefits far outweigh any short-term disruption. We'd like to reassure the local community that we have done and will continue to do all we can to help minimise any disruption where possible.
Work is expected to be completed by the end of July 2022.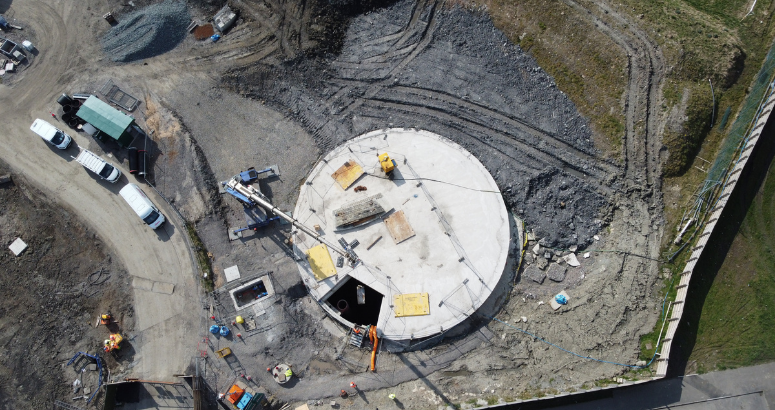 Overhead View
Looking down at the shaft at Craigneuk as works near completion.
Update January 2022
The final phase – to install the remaining sections of pipes and manholes – is now underway and is expected to last approximately 11 weeks.
Road traffic management has been agreed in conjunction with North Lanarkshire Council. The first part includes a road closure on Craigneuk Avenue from Excelsior Stadium access to Holly Street.

On completion, this section of the street will re-open and a second road closure on Craigneuk avenue will operate between Hawthorn Drive and Willow Drive.

Alternative routes will be identified and signposted during these closures.

We appreciate there has been disruption for local residents. Please be assured that we are doing all that we can to minimise the impact of the works and we thank the community for their continued patience and understanding.
Please note: access will be maintained for local residents throughout.
Update December 2021
The final phase further down Craigneuk Avenue to install a manhole and pipe crossing will start from Monday 17th January 2022 for approximately 11 weeks.

Road closures will be in place to allow our contractor to carry out the work safely and all traffic management measures have been agreed with North Lanarkshire Council.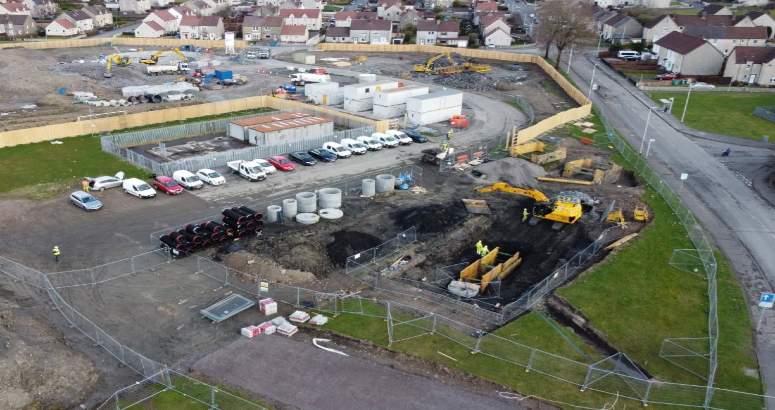 View of Work Site 
This photograph demonstrates the scale of the work that's going on here.